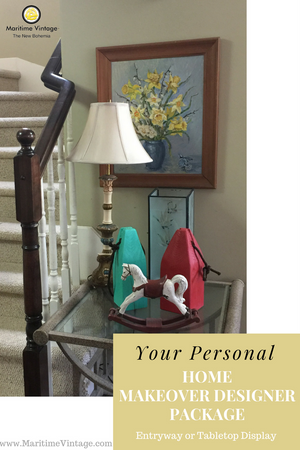 Your Personal Home Designer Makeover | Entryway Table Top Package
Sale price Price $250.00 Regular price
Our "Beta - Home Decor Design Service" has just completed. Thank you to all our customers that made it a huge success. We are presently expanding our Interior design team. The service will be relaunched & expanding to a global audience in 2019.
*********
Our Home Designer Service is changing the way people find that perfect "Focal Point" for their home. 
We have a network of passionate talented designers who will use your "Style Profile" and Social Chat, to work with you to find the perfect Décor Pieces for your Home. 
Your Décor package will be carefully selected by our professional designers.  They will look for the perfect combination of "Color", "Theme" and "Focal Points" to bring about your "New Bohemia" Decor Package.  We continually strive to match you with a design professional that understands your "Inner Child" and your "Passions".  Your designer will then work with you and your "Style Profile" and select a hand-picked package of Home Décor items that will be delivered straight to your door. There are different price tiers available our first starting at $250. 
You will Be Shipped a Decor Makeover Package consisting of individually priced Decor Items that will have a retail value of $250 or a bit higher.  Once received you will have the option of Keeping all of the items or none, or you can choose to return some of the items if you wish.  Only Pay for the pieces you want to keep.
And the Best Part is The Service Itself is Free, you are only charged for the items in the Décor Package sent to you by or Designers.